Disclosure: Some of the links below are affiliate links. This means that, at zero cost to you, I will earn an affiliate commission if you click through the link and finalize a purchase.
The Chef's Choice 799 has been built to aid chefs in grind large volumes of meat with ease. This inexpensive meat grinder comes with stainless steel grinder plates; medium, coarse and fine to ensure you get customized grinding. For high performance, it also comes with stainless steel cutting blades.
The whole unit is very ergonomic and lovely to have in the kitchen since it is steel coated. It is easy to operate and offers faster grinding as compared to Sunmile SM-G50.
The attachments are easy to fix and detach for washing and storage. It is an ideal choice for beginners but great for seasoned chefs who want to make a kill at a bargain price.
Unlike the huge meat grinders that produce the loud noise, this meat grinder is quiet even after grinding for long hours.
To whom is This Product Designed for?
Features of Chef's Choice 799
People who want a versatile meat grinder that does more than just grinding will find the Chef's Choice 799 is a perfect choice.
Chef's Choice 799 is one of the best in our Electric Meat Grinder List. This powerful grinder consists of  some outstanding features:
Lightweight (2.1 Pounds)
The Chef's Choice 799 is built with portability in mind. It weighs only 2.1 pounds and measures 8.8 by 4.8 by 8.5 inches.
This meat grinder is ideal for mothers and chefs who want to grind meat for different places since you can easily move it around the house.
I found it very useful when my kitchen socket developed an issue; I was still able to process my meat from the living room. It is also very convenient for storage since it occupies just a small space.
Three Cutting Plates
This meat grinder comes with 3 cutting plates. These include coarse, medium and fine.
The manufacturer gives some recommendations on how to use these cutting plates.
The fine plate is meant for pates, spreads, hamburgers and baby food. The medium plate can be used to grind meat for making sausages and soups.
The coarse plate is ideal for grinding meat for chili. Also, it can be used to grind and process vegetables.
Having cutting plates of different sizes lets you test each and choose a perfect choice for your recipes.
Easy to Use
This Meat Grinder is very simple to use, most experienced chefs don't require the user's guide to get started. The operation buttons are well labeled.
All the attachments are simple to put together and detach for effective meat processing and easy washing. Simply hand wash the attachments in warm soapy water to prevent discoloration.
Oil them with food grade oil to enhance their performance and life. I found the user's guide very useful since it has more tips on how to use this grinder to achieve the best results.
Generous Metal Food Hopper
The Chef's 799 come with a generous metallic food hopper making it user-friendly.
This food chopper features a food pusher that can be used to store the extra grinding plates.
Also, it ensures you store the plates near you for quick access and prevents loss of the cutting plates. Although the food pusher is made of plastic, I find it very light to carry around.
But the plastic material used for this component is very strong and sturdy; hence it is long lasting.
Sausage Attachments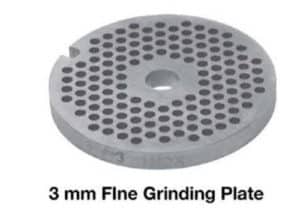 This electric meat grinder comes with two sausage stuffing tubes plus a sausage making ring and also a sausage stuffing plate.
The sausage ring is used instead of the cutting plate and cutting blade when stuffing sausages.
I love these sausage attachments since they allow mixing of meat and spices to come up with excellent recipes.
These attachments work well to produce professional sausages. The owner's manual also comes with several sausage recipes to assist you to get started.
Pros
Chef's Choice 799 features a metallic construction that makes it sturdy and durable.
This Machine is lightweight, only 2.1 pounds.
This meat grinder produces fine sausage meat since it has 3 different cutting plates.
Cons
This grinder requires you to cut small pieces of meat.
Its plunger is made of plastic.
FAQ
Is the meat tray permanently attached?
No. It separates
Can the Chef's Choice 799 grinder be washed in the dishwasher?
No. It should only be hand washed.
Final Verdict
This electric meat grinder is perfect for people to want a machine that has multiple functions. It can be used to produce sausage meat, fine meat for soup and coarse meat for stew; it has different cutting plates for these functions.
Seasoned chefs, who want a great bargain, will find this grinder an ideal choice. Since it is made of hardened metal, it will last for long.
But if it doesn't perform according to your expectations, you will appreciate the two years warranty.
I will give it a yes because it is well priced and affordable to all.
Note: This meat grinder is discontinued by its manufacturer's right now.